As of 1st May 2017, Tshwane Bus Service has changed its fare collection service and replaced the paper-based ticket system with an electronic system and here's how it works.
You would have to purchase a connector card at selected outlets as of current the outlets are located at:
What will you need?
Your Identity Document
R25 as of 2019 to purchase the card
Scholar documentation if you are a scholar and would like to get a concession (Anything to prove that you are a student)
Any amount you would like to load into the connector card (This provides credits and allows you to board the bus)
What to do once you get there?
The staff is usually friendly once you have reached the building assuming you will get your ticket at the Tshwane Bus Service customer centre, you would most probably be directed to the back of the building (faces Paul Kruger square statues) and there you will complete your registration as you fill in certain personal details, if you are a student or pensioner be sure to inform the people helping you that you are a student and would like a concession. Concessions are reduced travel rates for pensioners and students.
Next, you will go to the front of the building where you will collect your card, the process will go as follows… You will pick up your card, the teller will then attempt to get some of your details then hand you over your card.
The teller will then set up your card for you by activating it and allowing you to create a pin number, it is important to remember this pin number because you will need it whenever you need to load points on your card.
How to board the bus with your connector card
Pretty simple, just enter the bus and tap your card against the card reader located on the front of the bus till you see a green light surround the reader device with a charge or transfer message.
Getting off the bus is the same as boarding the bus in that you simply need to tap your card against the card reader until you see a checkout message and the charge amount.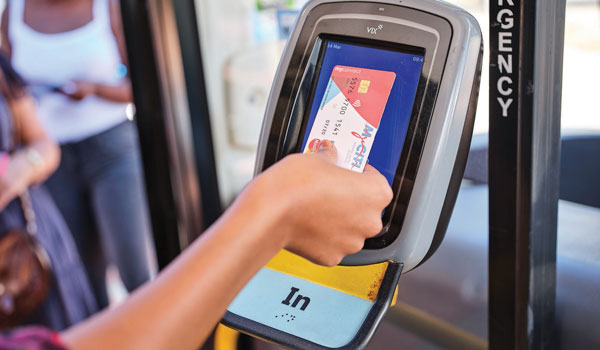 Price fares for Tshwane Bus Service as of 2019- 2020
Tshwane Bus Service pricing works based on the kilometers you travel on the bus. As you can see below kilometers ranges are called fare bands and you pay based on the fare bands, upon entrance, you will be charged R8,00 thereafter for every other pass you climb within an hour and a half are considered as transfers and are free.
See Tshwane Bus Service pricing guide below:
| | | |
| --- | --- | --- |
| Fare Band | Distance Covered | Fare |
| Fare Band 1 | 0-3 KM | R8,00 |
| Fare Band 2 | 3-8 KM | R9,50 |
| Fare Band 3 | 8-14 KM | R11,50 |
| Fare Band 4 | 14-21 KM | R13,50 |
| Fare Band 5 | 21-29 KM | R15,50 |
| Fare Band 6 | 29-38 KM | R17,50 |
| Fare Band 7 | 38-48 KM | R19,50 |
| Fare Band 8 | 48-59 KM | R21,50 |
| Fare Band 9 | 29-17 KM | R23,50 |
Connector points
Connector points are bonus points that you receive if you load your card with R80 or more.
If you have any more questions, please ask them in the comment section.